Industry's First Wideband Bluetooth Low Energy sniffer with concurrent capture of Wi-Fi 802.11 1x1 a/b/g/n, raw 2.4 GHz spectrum, HCI (UART, SPI), WCI-2, logic signals, and Audio I2S..
Highlights
All-in-One: concurrent capture of Bluetooth Low Energy, Wi-Fi 1x1, raw spectrum, HCI and logic, all synchronized to sub-microsecond precision
Wideband Capture: rock-solid capture of all Bluetooth Low Energy channels
Extremely Compact: pocket-sized at 7.5 x 7.5 x 1.7 cm (2.9 x 2.9 x 0.7'')
USB Powered: ultimately portable, convenient and environmentally friendly
Reprogrammable Digital Radio: support for new specifications with a simple software update, without hardware changes
Wi-Fi: debug your Wi-Fi a/b/g/n and BLE connections simultaneously, as well as coexistence
Raw 2.4 GHz Spectrum Capture: characterize the wireless environment and visualize interferences
Professional Software: use the acclaimed, widely adopted and highly flexible Ellisys multi-protocol analysis software.
All Protocols and Profiles: best-of-breed protocol decoding
Logic Analysis: visualize digital signals such as GPIOs, interrupts, debug ports, etc, concurrently and perfectly synchronized with your BLE and Wi-Fi traffic
Free Maintenance: free lifetime software updates as well as free fully-featured viewer software with unlocked hardware that can be used on any computer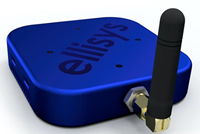 Industry's First All-in-One Sniffer
Capturing wireless traffic is a very important aspect of Bluetooth debugging, but other information is equally important for understanding the big picture. The Ellisys Bluetooth Tracker sniffer supports one-click concurrent and tightly synchronized capture of:
Bluetooth Low Energy
Wi-Fi 1x1 802.11 a/b/g/n [Enterprise]
2.4 GHz Spectrum [Pro]
UART HCI (2 ports) and SPI HCI (2 ports) [Pro]
Logic signals [Pro]
Wireless Coexistence Interface 2 (WCI-2) [Enterprise]
Industry's First Reconfigurable Bluetooth Digital Radio
With its innovative reconfigurable radio, the Ellisys sniffer can uniquely be updated by software to support changes in the specification, without any change to the hardware, and even without any interaction from the user. For instance, this flexibility allowed for the addition of next-generation Bluetooth baseband features several months before the specification was officially released. Additionally, the Tracker comes with free lifetime software updates, so all customers can benefit from these great additions free-of-charge.